Procure-to-Pay (P2P) Technology Adoption in the Hospitality Industry Solves Current Supply Chain Challenges
May 18, 2021 | By Nicholas Wilhelm – Founder & CEO of CedarCreek Systems 
"BirchStreet and CedarCreek work together as the Procure-to-Pay process is adopted across multiple Verticals"
In a recent Wall Street Journal article, supply chain challenges ranging from shortages, drastic price increases, inaccurate and missing data have been disrupting businesses across the country from manufacturers to distributors creating a "domino effect" that extends through to the point of commerce.
"Distributors say labor shortages, supply constraints, and high freight costs are making it difficult to deliver complete and timely orders." Big buyers like Sysco are fining suppliers over infractions like late or incomplete orders. In February, Sysco alerted suppliers to fees it would begin assessing in April for partial orders, billing discrepancies and missing data. Meanwhile, manufacturers are raising prices on a range of food and other consumer products. The use of automation and technology to manage orders, invoices and inventory by large companies like Walmart, Sysco, and Gordon Foods enables these businesses to better manage procurement challenges, control their supply chain, and mitigate costs and risks.
CedarCreek's Procure-to-Pay (P2P) Technology, powered by BirchStreet, used within the hospitality industry (Hotels, Restaurants, Resorts, Clubs, Casinos) provides the same element of supply chain control larger businesses have long embraced to help manage costs, track and record orders which alleviate present and future challenges. In many cases, operators in hospitality have a more complex supply chain than the big buyers above which can include the sourcing of food, beverage, chemicals and linens to turf management, parts & equipment, and ongoing renovations and capital projects. Furthermore, the developments of the past year have pulled forward 10 years of demand and accelerated businesses that have been resistant to this digital transformation to adopt eCommerce and automation across their operation.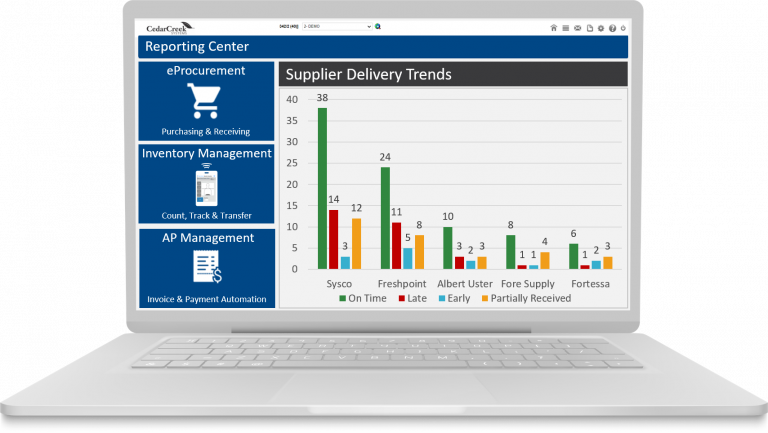 CedarCreek's P2P automation is a fast and user-friendly technology that replaces inefficient & redundant manual processes. Data and information that would otherwise not be captured or measured is automatically populated so that operators can make swift businesses decisions with more intelligence. eProcurement connected Inventory Control combined with Invoice Management and Virtual Payment empowers operators to keep up with guest and member demand while managing their business as efficiently and effectively as possible.
Schedule a demo today to learn more about deploying this solution in your club and adopting P2P and AP Automation processes. Call us today at 561-946-2770 or email info@cedarcreeksystems.com for immediate help.
Sources:
WSJ – Article May 07, 2021 | Grocers, Restaurants to Suppliers: Hurry Up, Make More
Previous Blog Posts: 
Benefits of Utilizing AP Automation in the Private Club Industry.